Delivery
of
the
first
functional
prototypes
based
on
Intuity®
Ject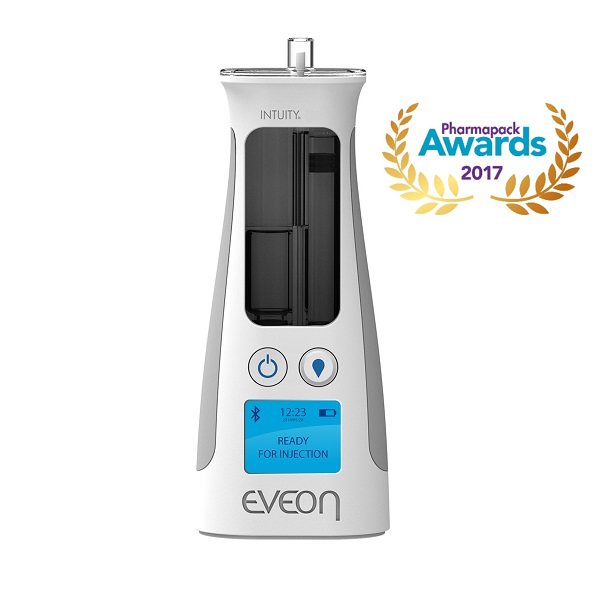 EVEON, as part of a partnership with a pharmaceutical laboratory, has delivered, on schedule, the first functional prototypes based on the innovative medical device Intuity® Ject.
As announced in February 2019 , Intuity® Ject is at the heart of developments within the framework of this partnership: an automatic device for reconstitution and injection of a lyophilised drug. This medical device, multi-award winning which received a Pharmapack Award in 2017, offers a unique, safe, and automatic alternative for preparing and injecting drugs with simplicity and precision from two containers, a lyophilisate and a solvent.
Since the project's beginning, ergonomics, ease of use, and connectivity have all been key features in the medical device's design. Developments have made it possible to design a prototype that reconciles the partner's expectations according to the therapeutic area and the foreseen uses as well as the technological constraints of such a device.
The first step of the partnership, which involved the delivery of 5 functional prototypes by the end of March, has been successfully passed. The next key step will be the delivery of 200 samples, scheduled for mid-May. The development and industrialisation teams were reinforced in order to succeed in this new challenge to meet the expectations of the partner and maintain the high level of excellence required for this innovative medical device.
"The whole team is proud to have been able to deliver on time prototypes that meet the needs of the partner and, above all, the needs of future patients who will benefit from a completely automated, intuitive medical device. We were able to meet this 1st milestone thanks to substantial work and involvement by the EVEON teams, with the support of the JBT HubUp alliance ," said Vincent Tempelaere, CEO of EVEON
The partner also wished to express their satisfaction after testing the delivered devices. The Vice President, head of medical devices, highlighted this sentiment: "We would like to thank the entire team for the tremendous work which has been performed under a tight deadline." This reinforces the confidence that they had in EVEON and JBT HubUp to successfully develop a complex medical device for their application.